Relaxing on Caye Caulker, Belize
From luscious turquoise waters to great local cuisine. Come visit this beautiful island off the coast of Belize.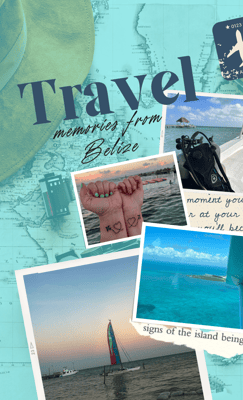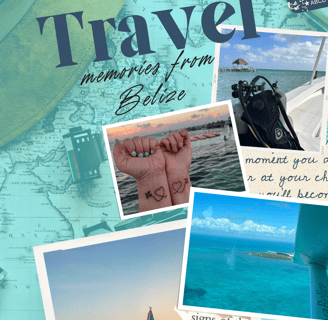 Our time in Belize on the island of Caye Caulker was nothing short of amazing. The people, culture, diversity and love that this island showed us was contagious, we didn't want to leave. Because of this, we definitely want to go back and see more of Belize.
We arrived on Christmas Day 2022 and unfortunately it was freezing, which is not in line with what the weather is like during this season, matter fact we traveled in their dry season. It rained for the first two days of our trip, but that didn't stop us from exploring all that it had to offer us. It was beautiful and sunny after that til we left on January 5th. We traveled with our best friends and rented an Airbnb, the place was amazing and had a nice kitchen and living room space. The beach was across the street from us.
First things first- the food and my gosh it was delicious, we didn't have a bad meal and the prices coming from USA, was very inexpensive. We loved the restaurants Swings and Hibisca the most. Every day, the locals would fire up their grills and cook fish, lobster, ribs, chicken and corn on the side of the street and that was really incredible as well. The Split is a very popular spot that allows you to eat and drink while hanging out in the water. Their is a platform you can also jump off of, I did a back flip and got a huge bruise but it was fun!
Now lets dive in to the top 10 reasons you should have Belize at the top of your travel list!
Safe

People are very nice and easy to talk to, we never felt unsafe- even at night.

Police walk the streets at night as well

Things are pretty closed up by midnight most nights

Food

Very inexpensive and delicious

Portion size was great as well

Everything was fresh and made to order

Clear turquoise water

Great to swim in, most bars have tables and swings in the water for you to enjoy

When out on a boat or in the water, you can see to the bottom

The water is warm and very enjoyable to be in

2nd largest coral reef in the world

great for snorkeling

great for scuba diving

beautiful and colorful fish and marine life

Hol Chan Marine Park

Day trips to the jungle on the main island

Cave tubing is a huge attraction here

Zoo that is geared towards helping endangered animals

So many beautiful ruins you can visit.

San Pedro

Just a 30 minute ferry to visit this sister island

great restaurants and bars

beautiful beaches

No cars

Only golf carts and bikes

or walking- we loved this about the island

most accommodations have bikes for you to use for free

Hostels and inexpensive lodging options

Many options for solo travelers and backpackers that were safe and reasonable

Interactive Marine experiences

On the island you can go to a dock and buy sardines and hold them up to feed Tarpon

At Iguana Reef right before sunset, you can watch them feed sting rays and they come right up to the shore and you can pet them.

You can check out my video on my Instagram, so fun!
While I was there, I got my open water certification and was able to experience some really once and a life time things. I'm afraid of sharks and I was able to overcome that fear and swim in open water and ran into a couple of 10 ft or so Caribbean reef sharks. I also got to swim with a pod of wild dolphins, which is very rare in Belize. The marine life was incredible; sting rays, turtles and so many different colored fish. I highly recommend Frenchies Diving, they were fantastic and very professional, if you are looking to get certified while in Belize. Check out my video here!
If you LOVE margaritas- I definitely suggest visiting The Dock Cafe & Bar and asking Onisha for a classic margarita with Tajin rim. THE BEST MARGS ON THE ISLAND!!!! Enjoy was also a favorite spot, Charles is a lot of fun and makes Karoke a blast, drinks and food were also great!
My friend Britt and I went to see Luke at Hot Mess Tattoos and he was awesome. Great shop, very clean and he's a licensed tattoo artist.
Another great experience was snorkeling off of a Hobie boat that we did a full day excursion on with Victor. You can check out his Instagram and I highly recommend booking with him if you enjoy this type of sailing experience. He got us up and close to a wild manatee and we got to swim with her for a good 15 minutes just watching her be, it was quite an experience. He also took us to Shark Ray Alley to swim with sting rays and nurse sharks, we actually saw a manta ray as well.
Our second day with him was spear fishing and trolling for barracuda and Victor grilled the fish for dinner afterwards. Such a cool experience – wear sunscreen or get a sun shirt to protect you, very strong! Below you will see some of our Amazon must haves for these excursions.
Our last two days we stayed at Iguana Reef Inn on the other side of the island and this is a much quieter area but still beautiful. There is a bar right on the beach, you can also order food and have it delivered from a great restaurant spot on the main strip. The Inn has paddle boards and bikes for you to use for free if you are staying here. The water is very calm on this side and it was very enjoyable to lay out on the beach chairs or go out into the water; their are swings and hammocks in the water as well. Drop a comment below with any questions or what you'd like to see me post next! Stay tuned for Caye Caulker Itinerary coming soon.
Travel on my friends
~Katie