8 Amazing Things During Our Time in Paris, France
Take a walk down the beautiful streets in Paris and get enveloped in the stunning architecture. Discover hidden gem cafes, get lost in the history and the vibrant culture of this timeless city.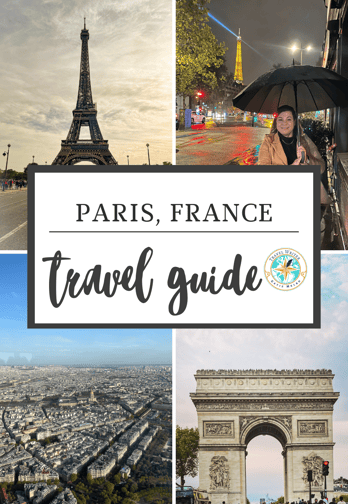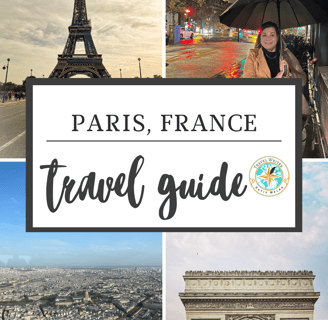 In October 2022, my husband and I got the chance to experience some amazing things during our time in Paris, France. We are so excited to share our top 8 things with you, plus some must read tips! Be sure to check out our other travel guides here!
Top 8 Things to do in Paris:
Eiffel Tower
I highly recommend you buy your tickets for this at least a month in advance- they will sell out, especially if you want to visit the top observation deck. You will have the ticket option of taking stairs and then the elevator or just the elevator the whole time. The first trip will take you to the 2nd floor where there is a store and some food options. Then you take another elevator to the observation deck that is 905 feet from the ground. The 360 views that you get to see will take your breathe away.
After words we headed back down to the 2nd floor and decided to indulge in Prosecco and macarons. We were able to do this while we enjoyed the amazing view. This experience took us about 2 hours in total and walking around the grounds or sitting in the park is nice to do too.
Place de la Concorde/ Louvre Museum
The Louvre Museum is set in the back of the Place de la Concorde. Or you can also access it from the other side of the city. We went through both directions just to get a grasp of the area and it took our breath away. It is beautiful and inviting. People walking and picnicking all around. You can see the Eiffel Tower in one area of the park and the view is incredible. Every direction you look, you will see statues, fountains, stone architecture and places to rest while taking in the views.
The Place de la Concorde is not a place to miss out on! It's free to enter the park and we walked from our hotel. There are stairs that lead to a higher walking area on the east side of the park and leads from the entrance to the Louvre. I highly recommend getting tickets in advance due to the volume of people that come to see the famous Mona Lisa. Everything is in French, we recommend getting an English tour if you are really interested in all of the art and history that this museum has to offer, the tickets sell out fast.
Arc De Triomphe
The Arc de Triomphe is an iconic monument that has been seen in many movies and is gorgeous. The attention to detail in this architecture is truly remarkable. Arc de Triomphe stands at the center of the Place Charles de Gaulle, also known as the "Place de l'Étoile. The cool thing about this historic monument is that you can actually go to the top and see amazing views of the city. If you want to skip the line and have a designated time to go up, I would use this site to purchase. I learned the hard way and bought ours else where!
Additionally, the Arc De Triomphe was commissioned by Napoleon and based on ancient Roman arches. This is also the street that all the big shopping is, any store you could possibly want is down this road. So after we went to visit, we did some shopping and had a nice lunch while in this area of the city
Bateaux Mouches/ Seine River
Next stop is the river cruise that Bateaux Mouches does on the Seine River. The company provides tours for everyone, whether you want to do a hop on hop off type of tour or a day cruise to see the amazing sights from a different view. The cruise we choose was the champagne sunset cruise.
The cruise was great, it was 1.5 hours long and it was just the right amount of time to spend learning about the history of Paris. They give you a single serve bottle of Moet Champagne to sip on while you soak in the beautiful city. The gorgeous architecture and seeing the Eiffel tower glitter in the starry night was one of my favorite moments during our time in Paris. You can grab your tickets here, definitely something nice to do before heading out to dinner.
Notre Dame
Notre Dame, Our Lady of Paris, is still unfortunately under construction due to the incident back in 2019 that left the city in tears. We still visited this amazing church but could only see it from the outside from a distance because of ongoing repairs that are slated to finish in 2024. If you didn't know about this, you can read about it here.
On April 15, 2019 a fire broke out in the cathedral and suffered massive damage. It is still beautiful and they are working hard to restore it to its glory.
Rue Cler
Rue Cler was a street near the Eiffel Tower and our hotel that we kept finding ourselves visiting. It has everything you could want from shopping, eating and cobblestone streets. We found a hidden wine bar in the back of a liquor/wine store. It was quiet, quant and very reasonably priced. The women always surprised us with a new wine based on our preferences and she was spot on.
We found the best bakeries with local goodies that we even took home with us on our last day. The restaurants were wonderful with great service and delicious food.
Moulin Rouge
One of the nights we went to see the iconic Moulin Rouge show and it was fantastic, so much talent and great acts. There was a duo that did an amazing performance on roller skates on a small trampoline that left us with our mouths open in awe. Each group sat at a little cocktail table with candlelight ambience and there is an option to get champagne with your ticket as well.
Highly recommend this show and felt it was worth every penny. Tip – buy your tickets in advance, they sell out and they have a dinner show option that we missed out on because we didn't know it would be this popular!
Disneyland
IF you are a DISNEY fan- this is a must do! The great thing about Disneyland Paris is that it's super affordable and everything is in the same place. Disneyland Park and Walt Disney Studios Park are next to one another. While Disney Village is across the way from the two parks, making it very convenient to see it all in one day. Disneyland Paris has 6 different hotels to choose from and also all near the parks.
We opted to do the Disney Premier Access add on to our tickets so that we could easily work our way through the two parks and get on all the attractions we wanted to. Their are 6-8 rides included in each park and you get to cut the line and ride them all one time with the package. This was the only way we could see it all in one day. We felt it was worth the money because of all the time it saved us. It really was a magical experience! We got our tickets here and it included transportation which was a big plus for us since we didn't have a rental car.
Disneyland Paris is celebrating their 30th Anniversary, it was really cool to be able to experience the extra magic sprinkled through the parks. Check out my Instagram to see a reel I created from my day with Mickey!
In the end, we fell in love with the city of Paris during our short time there. We definitely would recommend spending a full week to really embrace the culture and everything Paris has to offer. I'm confident that we will come back to explore more of this amazing city. The food was incredible, be adventurous and try different cuisines. We went to a Lebanese fusion restaurant and it was amazing! I tried Escargot and really tried to embrace the food Paris had to offer.
Another tip for your trip to France, they are not in a hurry to get you out of their establishment. Most of the time we had to ask for our check. Make sure to look at your check, 99.99% of the time, tip was included.
When you travel to Europe, don't forget to buy an adapter for your electronics as the voltage is different there. We included hats we both really thought made a difference on our day trips out and about in the city. Lastly, a fanny pack was so helpful for me, gave me piece of mind that I knew where my personal belongs were and Jim always kept his wallet in his front pocket to be safe.
We were very careful with the pick pocket issues that we heard about, we thankfully didn't experience this anywhere we were. As you would anywhere you go, just be smart, mindful of your surroundings and enjoy your adventures!
Travel on my friends!
Katie~