3 Must-Visit Hotels in Vegas
When in Las Vegas, their isn't much off the table as to what you can see during your stay. These 3 hotels are a must visit, for a unique experience and fun themes!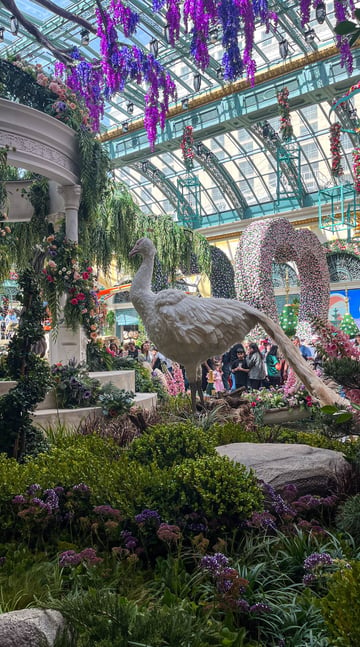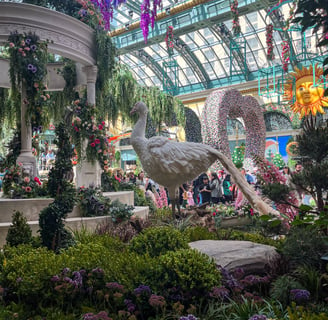 Vegas Baby! Ahh we spent five days in Sin City in March 2023 and we loved getting to experience a new city. There is so much to do and see and there is entertainment at your fingertips. When in Vegas the two main areas are Fremont Street (old vegas) and the main strip (new vegas) Try not to get overwhelmed and plan out your attack on the city! Bring comfy shoes- the strip spans 4.2 miles from the Stratosphere to Mandalay Bay. It looks very walkable but looks can be deceiving, just bare in mind the distance. These were our favorite hotels to visit. We stayed at the Paris and the Stratosphere (STRAT).
Bellagio - First thing to do is watch the iconic fountains show outside of the hotel! It has a light show component at night too! It happens every 30 mins. Once inside, the conservatory and botanical gardens are stunning and over whelming! It is open 24 hours and is free. As you wander through the hotel there are beautiful art galleries and sculptures to find. Lastly, there are a lot of great restaurants to choose from.

Paris- Go up to the top of the Eiffel Tower, the views especially at sunset are breathtaking and you can see most of the strip from there. We actually witnessed a proposal! The whole inside is designed to make you feel like you are walking down the streets of Paris and the food is phenomenal!

New York New York- IF you like thrills, they have an inside roller coaster! So much fun and there are New York themed restaurants, Statue of Liberty and other themed items throughout the hotel! It was a lot of fun to walk around and check out.
All of the hotels have a little something extra and usually a theme! We spent a day just walking up and down the strip checking out each one and enjoying all the extras each hotel had to offer! I highly recommend going to a show while you are there. We did some gambling at the casinos too, which was fun. You will see all walks of life in Vegas, just embrace it and enjoy Sin City!
Travel on my friends,
Katie